How to Hack an iPhone of Someone Expertly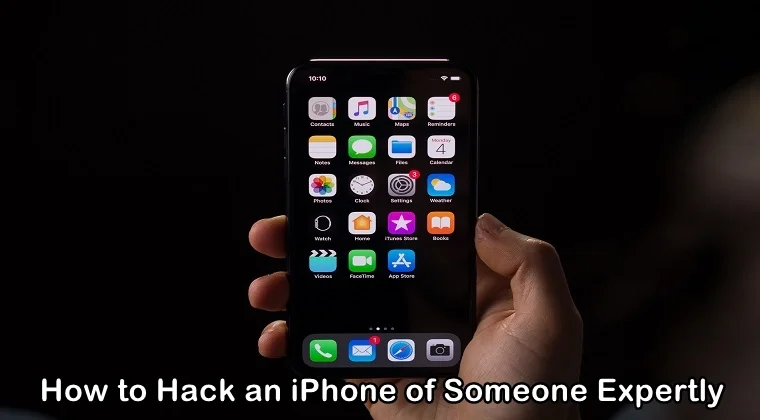 For a long period, iPhones were renowned for their strict privacy protocols and impenetrable security system that could never be hacked. The fact that iPhones are the most secure devices remained a major selling point of iPhones for a lot of people.
However, that was a few years ago and now there are a plethora of methods through which you can hack an iPhone of someone expertly, without them knowing. One of the most popular methods is using hacking and spying apps for iPhones to track and monitor the target iPhone's activity. Now, you might be wondering why people would feel the need to use such apps and whether or not they work.
Reasons Why People Hack an iPhone
People use hacking apps to hack the iPhone of someone because of personal reasons. To some people, especially concerned parents, ensuring their kids are safe on the internet is important. This is the reason monitoring and spying apps have become an essential part of digital parenting, which is much needed in today's digital world.
Not only that but hacking an iPhone can also be beneficial to those who want to protect their relationships by knowing whether or not their partner is faithful to them. Quite often, healthy and successful relationships are destroyed due to suspicion. Hacking an iPhone of your partner lets you know if there is any truth to your doubts and suspicions.
On the other hand, several companies are now considering deploying monitoring apps on iOS devices being used by the employees in the workplace. These monitoring solutions help companies keep tabs on their employees' activities during office hours, ensuring they are working and not wasting time. The use of monitoring apps in the workplace has said to have improved the employee productivity.
How to Hack into Someone's iPhone
Professional hackers and cybercriminals have been trying their best to devise methods that could help them learn how to hack into someone's iPhone. And they have been successful in doing that. Not only them, but many tech companies have stepped forward to launch monitoring and hacking apps to help those in dire need of them.
Monitoring apps have been designed to keep track of the target iPhone's data. Whatever activity is taking place on the target iPhone can be easily monitored with the help of an iPhone monitoring app. The trick is to hunt down the most effective and reliable monitoring apps on the market and start using one.
Be sure not to get your hands on a fake and bogus monitoring app as the market is laden with them. To opt for the reliable monitoring app, you need to first check its official website, read a couple of reviews from the customers, go through its terms and conditions and then purchase the app.
To be honest, monitoring apps are the best way in which you can hack into someone's iPhone expertly even without them knowing. The app helps you do the monitoring without letting the target person know about it.
How to Hack iPhone with Mobistealth
Not many monitoring apps are equipped with advanced surveillance features and work properly except Mobistealth. This is one monitoring app that not only helps you track the target iPhone but also keeps you informed about everything that is happening on their device.
With Mobistealth, you can perform several activities. You can monitor all the text messages, phone calls, and emails (both sent and received) on the target iPhone. You can also track the phone's location and have information about all the whereabouts of the target person.
You can also find out what sites and apps they are using and to whom they are chatting with on the instant messengers. What's more, you can monitor their entire social media activity and see what sort of content they are seeing, sharing, and posting on their accounts. Mobistealth even helps you record the surrounding voices, monitor the emails as well as key logs.
All in all, no other monitoring app helps you find out the answer to the question "how to hack iPhone" as effectively as Mobistealth does.
Hack iPhone Without Being Caught
What makes it even more interesting to use Mobistealth is the fact that you can hack iPhone of someone without getting caught. This monitoring app lets you hack an iPhone without even touching the target iPhone.
Yes, that is correct. Not only you do not need to get physical access to the iPhone, but you also do not even have to physically install the monitoring app on it. All you need to do is get the iTunes credentials of the target iPhone and then remotely install the app on it.
Once the Mobistealth monitoring app has been successfully installed on the target iPhone, you can log into your online user dashboard and view the activity of the target device from anywhere and at any time.
This is how the architecture of the Mobistealth has been designed. The app stays completely hidden on the target device and runs secretly in its background without letting the target person know about it. As all the iPhone devices have the iCloud backup feature by default, the entire data of the iPhone is bound to get synced to the iCloud server.
While it is not possible to access the iPhone data synced to the iCloud server due to strong encryption, you can let Mobistealth do this job for you. By using the iTunes credentials of the target device, Mobistealth will provide you with complete data taken out from their iCloud backup.
This is also one of the major reasons why Mobistealth is regarded as the best iPhone hacker tool in the market.
Carry Out iPhone Text Hack
Mobistealth iPhone monitoring app is also capable of carrying out the iPhone text hack. As soon as it is remotely installed on the target iPhone device, the app starts recording all the incoming and outgoing iMessages exchanged on the device and then transports them to your online dashboard. From the dashboard itself, you can view the recorded messages.
---