Here's What You Need to Know About the iPhone Text Hack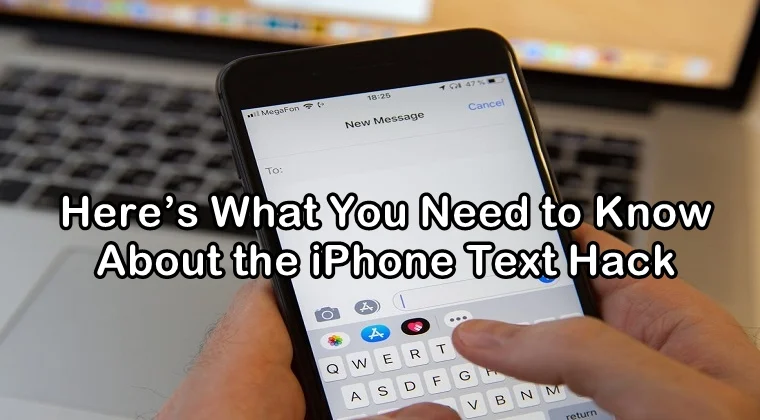 iPhone devices are considered to be the most secure digital consumer devices in the market. But it is important to keep in mind that they are not entirely infallible; they can also be prone to risks. An iPhone text hack is one of the problems Apple has had to face quite recently.
Google made up a team of researchers and hackers to find vulnerabilities in competitors' as well as Google products. The name of the team was Project Zero which worked relentlessly and found thirty different vulnerabilities and flaws in the iOS system. One of them turned out to be a flaw in the iMessage.
What is the iPhone Text Hack?
Project Zero found a wide range of vulnerabilities in iOS that involved services like visual voicemail, email, and text messaging. To the team's surprise, iMessage, the default messaging app on iOS and Mac devices, suffered a great deal, having to face the most impactful bugs than others.
One of the vulnerabilities found in the iMessage allowed hackers to send a precisely crafted text message to the target phone tricking the iMessage server into handing over the content of user text messages including text and images.
In this situation, the target person would never even get to see the message or find out that they had been targeted by the hacker in the first place. They wouldn't even have to open the iMessage app to find out that they had been targeted by someone.
Apart from this text message attack, other vulnerabilities found by the Google team allowed hackers to carry out the same attack in another way. They used text messages to plant malicious code on the victim's device without them knowing. The iPhone text hack is considered to be a major threat to the iOS device as it has the power to bypass the broader iOS security system.
The good news is that Apple has already fixed all of the vulnerabilities found in the iOS system, especially the one that allowed hackers to plant malicious code on the target user's device. However, the point of concern is, is your iPhone device still safe from the hackers out there? Is it susceptible to any other cyberattack? Can any other hack method allow someone to break into your iPhone device easily? Let's find out about other hacking methods in detail.
Can You Hack Someone's iPhone Messages with Another Method?
Even though iOS security protocols are generally strict and cannot be bypassed easily, it is still impossible to keep your devices entirely secure from the cyberattacks out there.
The market is laden with several iPhone hack methods that allow a person to sneak around someone's iPhone and monitor all their device activity. One such iPhone monitoring tool is Mobistealth. We call it a monitoring tool and not a hacking tool because it is generally used with good intent.
Hacking is done when a person intentionally tries to sneak into someone's device to steal sensitive information and then use the data against them. On the other hand, monitoring is done when a concerned party wants to ensure the other person is on the right track.
Parents, employers, or any other person who may want to monitor another person's device with good intent can use iPhone monitoring tools and still have their actions justified. Whereas no justification can be given for hacking.
How the Mobistealth Monitoring App Can Help You?
With Mobistealth at your disposal, you can track the target person's iPhone activity and find out what they have been doing all day long. This monitoring tool helps you monitor the target's both incoming and outgoing phone calls and messages.
What's more, you can also locate someone's whereabouts using the Mobistealth monitoring app as it brings the GPS technology into use to track someone's location.
Web browsing history, social media activity, surround recording, Gmail logging, etc. can also be monitored with the help of Mobistealth.
You just need to have iTunes credentials of the device whose activity you want to monitor and then log into it so you can remotely install the Mobistealth monitoring app on it. Once installed, the app will log all the activity of the device and transport the data to your online user dashboard, making it easier for you to view the recorded activity on the dashboard itself.
The monitoring app stays hidden on the target iPhone and continues working secretly in the background, without disrupting the target person or giving them any hint about it.
A monitoring app helps you keep track of someone's text messages and find out what is happening in their life. Parents and employers can benefit a great deal from this monitoring app. With the help of the Mobistealth monitoring app, parents can know what their kid is doing on their phone, who are they talking to and what sort of messages they are exchanging with others.
Whereas the employers can use advanced monitoring solutions like Mobistealth to keep track of their employees' company-owned devices during office hours to make sure they are on the right track, performing their duties diligently and not wasting time.
Therefore, if you want to monitor someone's iPhone device and not learn how to hack iPhone for illegal purposes, then we recommend you use Mobistealth.
---