How to Hack into an iPhone of Someone Without Them Knowing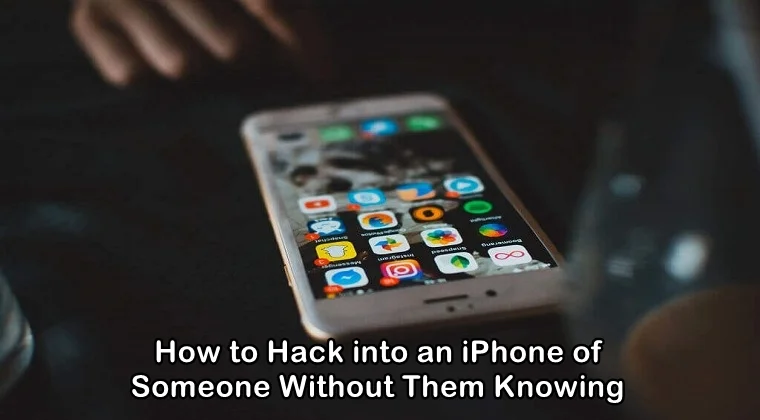 Have you ever come across a situation where you felt the need to hack into someone's iPhone device? If yes, you have landed on the right page and it's time for you to learn how to hack into an iPhone of someone without them knowing.
While we cannot disagree that hacking someone's phone is wrong and sometimes considered illegal and unethical, at the same time, we also stress that the judgment should entirely depend on the intent behind hacking someone's phone.
If you have all the right reasons to hack someone's iPhone then it shouldn't be considered unethical and wrong. For instance, if you want to sneak into your child's phone to protect them from online dangers then your intention is pure and you have the right reason to hack their phone.
Similarly, if you want to find out whether or not the person you are married to or are in a relationship with is loyal to you, then you can go ahead and start monitoring their phone activity as this intention can also be easily justified.
So, all in all, it has been proved that hacking isn't always a bad idea, especially when you are doing it for the right cause and have pure intentions behind hacking someone's phone. In this post, we are going to discuss how to hack into an iPhone remotely with the help of an iPhone hacking app/software.
How to Hack into an iPhone Remotely?
Now we move on to the part where we get to understand how to hack into an iPhone of someone without them knowing. It's better to hack someone's phone without their knowledge because it is not a good idea to make the victim feel offended.
If you want to spy on your child's iPhone device, you might as well do it without them knowing because you would not want them to feel you are invading their privacy. Most children like to stay private in the digital world, especially on social media platforms, but when they find their parents invasive, they become angry.
When they feel their parents are becoming way more obtrusive than they need to be, they start looking for ways to keep themselves more private online and hide online activities from them.
The same goes for a person you are in a relationship with. If they find out you are trying to sneak into their device to keep tabs on their activity, they will feel offended. As a result, this can lead to an argument between you and them.
So, to save yourself from any arguments, you should consider hacking their iPhone device without them knowing. That can only be possible with the help of a reliable and professional iPhone monitoring app that stays hidden on the victim's device.
It's important to use the right iPhone hacking app for this purpose. Several iPhone monitoring solutions can be found on the internet but you need to make the selection carefully. Beware of not falling for scams or a fake iPhone monitoring solution as they are easily available on the internet.
How to Hack an iPhone Using Monitoring App
Using an iPhone monitoring app can help users gain an insight into the target's iPhone and find out about all the activities taking place on their device such as phone calls, text messages, web browsing history, photos, videos, location, etc.
In order to find out how to hack someone's iPhone remotely, you need to seek help from a reliable and effective iPhone monitoring app such as Mobistealth. Monitoring apps and software make it much easier to spy on the target device.
The good news is that you do not need to be a computer expert to use an iPhone monitoring app. As soon as you have chosen your desired monitoring solution, let's say Mobistealth, installing the app on the target device is easy.
All you need to do is choose the premium package offered by Mobistealth, create an account and install the monitoring app on the target phone. After that, visit your online dashboard and start monitoring the target phone.
Here's the thing—you do not need to acquire physical access of the target phone to be able to monitor it. You just need to know the iTunes credentials of the target iPhone to be able to install the monitoring app on it. Once installed successfully, you can sit back and remotely monitor the target iPhone's activity on your online dashboard from anywhere and at any time.
Besides being able to monitor the text messages, phone calls, web browsing history, location, emails, and photos, you can also monitor your target's social media activity as well as obtain information on all the activities they perform on their device.
Some users also hack into an iPhone performing the iPhone lock activation hack first and then installing the monitoring app on it to monitor their activity.
---