How to Hack Android Phone Using Another Android Phone?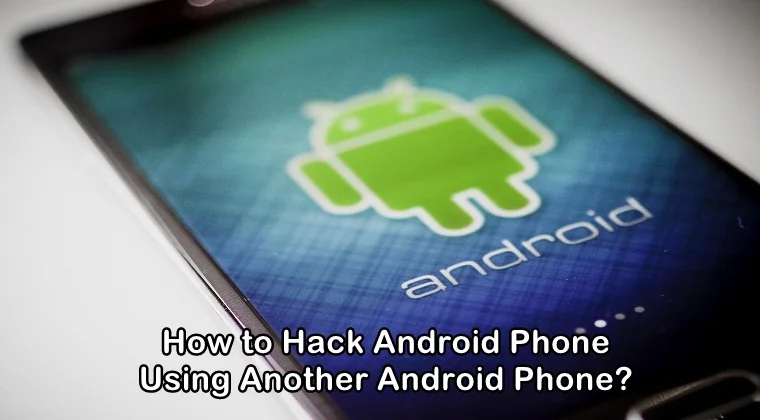 Let's imagine a scenario for a moment - you may be curious about what's happening on someone's Android phone, but it may seem odd or inappropriate to ask them directly. Have you considered hacking their phone without their knowledge? We are referring to the process of hacking Android devices. Is this something you think you can accomplish? Are you interested in learning how to hack someone's phone?
You may have pondered how to hack an Android phone or how to use one Android phone to hack another. You may be eager to learn how to hack a phone, and it's worth noting that it is indeed possible to hack someone's Android phone without alerting them. Learning how to hack an Android phone is achievable.
How to Hack a Phone of Someone?
Thanks to advanced technology, it is now possible to monitor and track someone's phone activity through various apps without the need for manual hacking. You don't even need to know the phone's password to gain access to the device. With the help of reliable and effective hacking apps, anyone can learn how to hack into someone's phone easily. There are various types of Android hack tools available, and in this article, we will discuss how to hack a phone using monitoring apps and explore different Android hack tools.
Different Types of Android Hack Tools
Different types of Android hack tools are present in the market. Some companies offer free Android hack tools whereas some offer paid or premium packages. The thing is, you can use free trial versions to get a basic understanding of how the tool works but you cannot expect it to provide you with advanced monitoring features.
To benefit from important monitoring features, it is recommended to use the paid or premium versions offered by most Android hack solution providing companies. Also, you need to beware of the bogus and fake Android hack solutions because they may contain malicious viruses or harmful content that can put your important and sensitive data at risk.
How to Hack Android Phone Using Another Android Phone?
Basically, there are two methods in which you can learn how to hack Android phone using another Android phone. One is by using a third-party monitoring or hacking app such as Mobistealth and the other is by using remote screen-sharing apps such as TeamViewer.
However, the latter method of hacking someone's Android phone is not recommended due to the following reasons:
The target device person will easily find out that a remote screen-sharing app has been deployed on their device as such apps do not stay hidden on the target device. This method will not offer a discrete operation when a screen-sharing app is used.
With a screen sharing app, you cannot have the control to decide what exactly you can access on the target device. All you can do is monitor the screen of the target device and the other content which is made accessible to you totally depends on the target device person.
This is why we recommend using a third-party app like Mobistealth because it is a much better option in such a case. With the help of a monitoring app, you can discretely track someone's Android activity without giving them a hint. The monitoring app will let you learn how to hack Android phone effectively.
How to Hack Android Phone Without Them Knowing?
Monitoring apps like Mobistealth help you hack Android phone of someone without them knowing. This means you can deploy the monitoring app on someone's phone to track their online activity and still not worry about getting caught. Just with simple installation, you can learn how to hack Android phone.
Apps like Mobistealth provide monitoring features with complete stealth. The target device person won't be able to know about a monitoring app being installed on their device because it will stay undetected and completely hidden on their device.
Using monitoring apps is quite useful because it does not create any conflict between the person who wants to spy on another person and the person whose activity is being spied on. For example, a parent can easily spy on their child's Android device without them knowing using a monitoring app and would not worry about the child finding the app and getting upset about it.
Several monitoring features offered by Mobistealth can be utilized to obtain an insight into the target person's Android device. For instance, you can monitor their incoming and outgoing phone calls, text messages, and emails. You can also monitor their web browsing history and social media activity.
Location tracking, Gmail logging, surround recording, and keylogging are some of the other important surveillance features provided by Mobistealth.
How to Hack an Android Phone Connected on A Same WIFI Router?
Mobistealth also works if you want to learn how to hack an Android phone connected on a same WIFI router. For this, you need to make sure that your device and the target person device are connected to the same WIFI connection.
When both devices are connected to the same WIFI router, you can easily monitor the target device. The good news is that besides working on Android, Mobistealth works on other leading platforms as well that include iOS, Windows, and Mac.
For those who wish you hack someone's Windows computer or iPhone device can also benefit from monitoring features offered by Mobistealth as it supports all the operating systems and platforms.
How to Carry Out Android Hack with Mobistealth
Hacking an Android phone has become easier with Mobistealth. This Android hack app lets you sneak into someone's device without giving them a hint. The app stays undetected on the target device, allowing you to secretly monitor all their activity.
Using Mobistealth is really easy. And, learning how to hack Android phone with Mobistealth is even easier. Even people who do not have any technical knowledge can operate this monitoring app. All you need to do is register an account with Mobistealth and get login credentials for your online dashboard.
Then, download and install the Mobistealth monitoring app on the target device. Now, here's the thing. Installation works differently on Android and iOS devices. If your target person is using an Android device, you will need physical access to their device to be able to install the monitoring app on it. The installation will take only a few minutes. After that, you no longer need to hold the target device in your hands.
Whereas, for iOS devices, no physical access is required at all. Only the target person's iTunes credentials would suffice to be able to hack their iOS device. With Mobistealth, there is also no need to root or jailbreak the target device.
So, what are you waiting for? Get your hands on Mobistealth now and start learning how to hack Android phone.
---