Perform Bypass Android Lock Screen Hack to Monitor Kid's Phone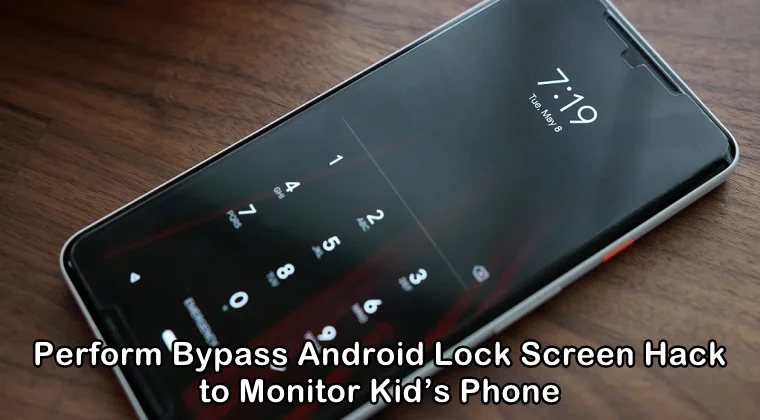 Are you annoyed with your kid using his/her Android phone way too much? Does their constant use of the Android device trouble you? If you want to find out what has been keeping your kid glued to their Android phone screen, you must start keeping tabs on their phone activity.
While you may think it's simple to sneak into your kid's phone and monitor all the activities they have been performing on their phone all day long, but in reality, it's not. Most kids have secured their Android devices with a password/PIN or pattern lock that can be hard to break. Unless you have carried out bypass Android lock screen hack to do it.
You cannot just sneak into your kid's phone unless you know the lock password, pattern of their Android device or know how to perform the bypass Android lock screen hack. In this post, we are going to teach you how to perform the Android lock screen hack to monitor someone's Android phone activity.
Why Perform Bypass Android Lock Screen Hack
People consider bypassing the Android lock screen because they are keen to know what someone is doing on their phone. This holds true for concerned parents who worry because their kids are spending way too much time on their devices.
Indeed, the internet is not a safe place for the kids as numerous online threats are surrounding them all the time. These online dangers are mostly found at social media platforms or other online platforms where kids are seen exchanging messages with strangers.
Parents think that their children are safe within the confines of their homes but they are not safe online. Just like they should be protected from dangers outside the home, they should also be kept safe from growing online threats such as cyberbullying, pedophilia, sexting, pornography, etc.
Your child can be at a huge risk when he/she is exposed to these online threats directly. The impact of online dangers is devastating, leading children to experience feelings of sadness, anxiety, and depression. Some may even go to the extent of taking their own lives.
Therefore, it is important to keep an eye on children's online activity and know what they are doing on their devices all day long. By monitoring their every move, parents can protect them from getting into trouble.
How to Perform Bypass Android Lock Screen Hack
To begin monitoring your kid's Android device, you need to first see if they have set a pattern or password/PIN to lock their phone screen. In case they have set one, you need to find a way to bypass that lock screen.
Now, you can bypass the Android lock screen in different ways. First of all, you can use social engineering skills and manipulate your kid into handing their lock password or pattern to you. If that trick doesn't work, you can always make a random guess and get inside their device.
Random guess takes place when you have a slight idea of what could be the password to their Android device. In case your random guess fails to give you access to your child's Android phone, you can try out other methods.
You can use Emergency Call to bypass the lock screen system. However, this method only works for Android devices running 5.0 and below versions. Locked Android devices continue to boast Emergency Call dialer which you can use to unlock the device. You need to bear in mind that this method can take a lot of time and be quite exhausting, but in the end, it does help you unlock your child's device.
New models of Android have enhanced security, therefore you cannot use the Emergency Call trick to hack them. this method only works for older Android devices. Other than this method, you can also use Android lock screen removal software to bypass the lock screen system.
Use Mobistealth to Monitor Your Kid's Activity
Once you have been able to bypass the Android lock screen of your kid's device, you can monitor their phone and online activity by installing a cell phone monitoring app on their device. Mobistealth is the best free Android tracking app that can be used for this purpose as it allows you to keep track of every activity taking place on the target device.
After bypassing the screen lock, the Android phone of your kid is in your possession. To download and install Mobistealth on their device, physical access to the device is a must. Without physical access, you cannot install the monitoring app on their device.
As soon as the monitoring app is installed on their device, you can hide the app's icon by going to the settings of the device and then opening the applications list. Once the app's icon is hidden, your kid won't be able to know about the monitoring app being installed on their device.
This way, you can secretly monitor their activity and be informed of all the conversations they have with others on their phone, all the content they share on their social media profiles, and all the sites they visit on their phone's browser.
---