Use an SMS Tracker App to Prevent Teens from Sexting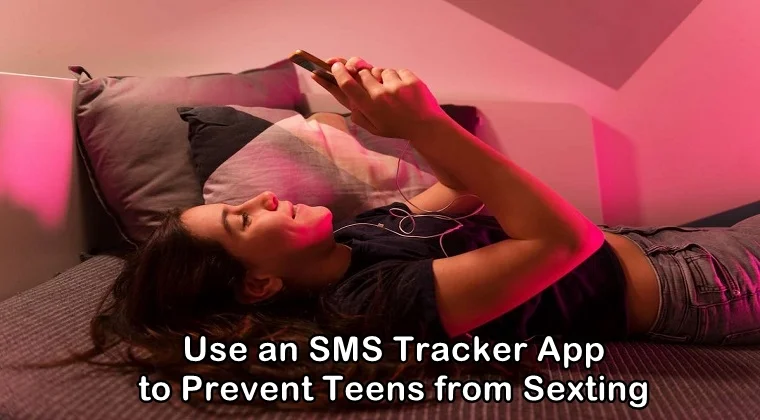 Every teen has a smartphone these days. Through it, they can perform several tasks on the internet. Whether it is about looking for answers for homework or project, watching a movie, playing online games, or chatting with a friend, they can use the internet however way they want to.
Parents give in to their teen's request and hand them a smartphone, not realizing the consequences. The same smartphone can also be used to perform immoral activities such as sexting or watching porn. Let us talk about sexting today.
Sexting is one of the greatest online threats our teens are exposed to. This term refers to the exchanging of sexually explicit or nude content in the form of pictures or videos via smartphone. It can also happen on other devices such as computers, tablets, etc. just like other online threats, sexting needs to be dealt with great care. Parents can use an SMS tracker app to keep track of their teen's text messages.
Why Prevent Teens from Sexting?
Most people do not realize but sexting can have serious psychological and legal consequences once teens are involved in it. As soon as teens start exchanging sexts with one another, they become addicted to the activity.
Most teen couples are found indulged in sexting these days. Mostly teen girls are persuaded by their male boyfriends to share inappropriate photos and videos. When they don't send, their boyfriends threaten to break up with them. Finally giving in to the pressure, teen girls do what they have been asked and then later bear the consequences.
Teens are advised to not ever share their sexually suggestive or nude photos to anyone because it's difficult to imagine what the receiver could do with them. They can either blackmail the victim or sell the content to the dark content for a good price.
Besides facing legal consequences, most teens also go through emotional damage. This happens when the person with whom they have shared their intimate photos goes on to post the pictures on social media, making it visible for everyone. This can be quite hurtful for teens because someone has violated their trust and embarrassed them.
Once an inappropriate picture of a teen becomes viral on social media, it can be seen and shared by thousands of people. This can damage their reputation forever to the extent that they might not get enrolled in any good university or not get employed at a credible company.
Therefore, teens should be stopped from sexting because it can bring them serious repercussions that they might have to face sooner or later.
How to Prevent Teens from Sexting?
After understanding why it's important to prevent your teens from sexting, it's time for you to know how to go about it. Below, we have shared some expert tips for parents to help prevent teens from sexting.
Delete the Photos
If you have found your teen sending any nude picture of themselves to someone on their cellphone, you need to stop them immediately by explaining the psychological and legal risks attached to it. Make sure you ask them to delete the photos. If they don't, delete them yourself. There is no way you can let your teen end up in a complete mess.
Talk with Your Teens
The next important thing you can do as a parent is to talk with your teens. If you have found your teen involved in sexting, there is no need to get hyper. Paranoia is only going to make things worse for you. You need to stay calm, be supportive, and try to learn as much as you can about the current situation. It's important to understand what made your teen begin sexting. Whether it was impulsive behavior, a teenage romance, or some form of harassment, bullying, or aggression.
Talk to Others
It is also a good idea to talk to others about this situation. You can have a conversation with other teens who are supposedly involved in the same situation as your teen and also talk have a word with their parents. You can also talk to your teen's school but it's important to keep your teen informed and involved throughout the entire investigation.
Reporting to school is generally a good idea but you need to be quite careful before involving them. We say this because some schools have mandatory reporting requirements which means they are liable to report about the sexting case to the law enforcement agencies. Once the case goes to the law agencies, your teen might have to face long-term legal consequences.
Use an SMS Tracker App
Using a monitoring solution like Mobistealth can also help prevent your teen from sexting. This monitoring tool offers an SMS tracking feature that lets you keep track of your kid's incoming and outgoing text messages. With this SMS tracker app, you can not only monitor the text messages but also the instant messages that are exchanged on several social media apps.
As soon as you install the monitoring app on your teen's smartphone, the app will start monitoring all the received and sent messages on their device and transport the data to your online user account. Parents can remotely monitor the messages through their online account from anywhere and at any time.
While the abovementioned tips are solely for parents, teens should also play their part and act responsibly. If they feel someone is threatening or bullying them to share nude pictures, teens should talk to their parents about it and seek immediate help.
---