Track Your Employees Messages with a Remote SMS Tracker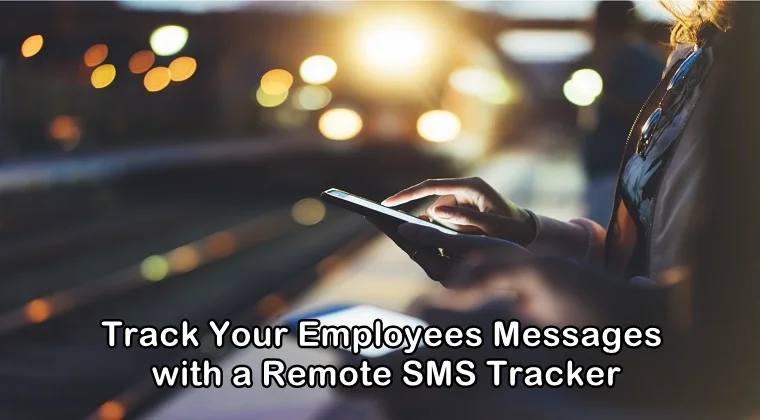 Believe it or not, employee monitoring has become a crucial part of every business. It must be implemented in every organization because it has been believed that most of the data breaches occur due to the carelessness, negligence, and fraudulent activities caused by employees.
It is important that every activity conducted by employees during office hours should be properly monitored through effective monitoring solutions. Some of the employees engage themselves in leisure activities during office hours.
They sit for hours and exchange text messages with their friends and family members. Also, they might exchange the company's sensitive data with the competitors without anyone knowing. Therefore, their conversations should be monitored with the help of a remote SMS tracker.
What Does an SMS Tracker Do?
An SMS tracker is basically a monitoring app that helps monitor someone's text messages on their cell phone. This tracking app records all the incoming and outgoing text messages on the target cell phone and then makes the data available for you to check.
Installing an SMS tracker on an employee's mobile device is important so that the management can have all the records of the conversations exchanged on their device, especially if it is a company-owned device.
Employers have the right to monitor their employees' activities during office hours because they have to protect themselves from the risk of data breaches. Monitoring text messages, emails, and phone calls is one of the ways to check whether or not your employees are loyal to the company.
Apart from tracking the traditional incoming and outgoing text messages, you can also monitor the conversations exchanged on the instant messaging apps such as WhatsApp, Facebook Messenger, Snapchat, Line, Viber, Kik, etc.
Mobistealth: The Best Remote SMS Tracker
Thankfully, we are a part of technological world where we can find several monitoring apps just with a tap of a finger on our devices. A single search result made on Google can offer us plenty of monitoring and SMS tracking app options.
After trying out different free hidden SMS trackers, we came to realize that nothing beats Mobistealth. This monitoring app has proved to be the best SMS tracking app so far. It's a remote SMS tracker. Now, you would want to know what a remote SMS tracker is.
Mobistealth is a remote SMS tracker which means it lets you monitor your employees' text messages remotely from anywhere and at any time. You do not need to stand by your employee's side all the time to track their text messages.
In fact, all you need to do is deploy the Mobistealth monitoring app on your employee's cell phone and let the app do its work. The app will record all the conversations taking place on their cell phone and then transport the data to your online dashboard from where you can remotely monitor the data, especially the text messages.
Besides text messages, you can also track your employees' phone calls, emails, web browsing history, location, etc. This monitoring app is also capable of monitoring your employee's location when they go out on a business trip. You can install this GPS tracker on their cell phone and keep track of their whereabouts.
This way even employees won't dare to go anywhere else besides the meeting location because they know their whereabouts are being constantly monitored by the employer.
How Does Mobistealth SMS Tracker Work?
The Mobistealth SMS tracker works differently for Android and iPhone devices. For Android, you need physical access to the target phone to install the monitoring app on it. Once installed, you do not need to hold the target phone any more.
As soon as the monitoring app is installed on the target phone, all the activities taking place on the device will be recorded and the data will be shared with you on your online dashboard. When it comes to monitoring your employees' text messages on an iPhone device, you need to use the monitoring app in a different way.
If you want to monitor your employees' iMessages on their cell phone, you will use the iBackup method offered by Mobistealth. Using this method, you can monitor their iMessages as well as the conversations exchanged on the instant messaging apps.
To use the iBackup method, you need to have your employee's cell phone, a USB cable, your PC or Mac device, and a stable internet connection. These devices are required to complete the setup process. Once the setup is complete, the backup of text messages from the employees' cell phone will take place automatically whenever it is connected to the same internet connection as yours or connected through the USB cable.
The iBackup method is used when you want to track your employee's text messages. In case you want to monitor their phone calls, location, and web browsing history, you do not need to use this method. For that, you just need the iCloud credentials of the employee's iPhone device and you're good to go.
The good thing is that you do not need to root or jailbreak your employee's iPhone device to install Mobistealth on it. Therefore, you need to avoid all the monitoring and SMS tracking apps that require you to jailbreak the target device. It's an illegal practice and should be avoided at all costs.
---