Know Why Do You Need to Pursue Employee Monitoring | Mobistealth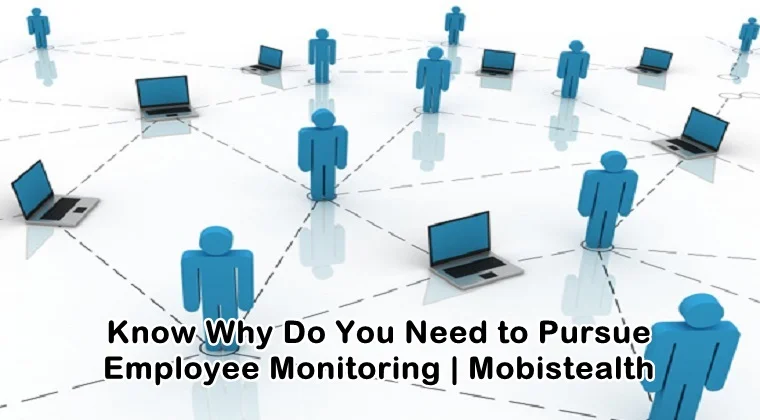 If you own a business or you are about to start one, you might need to know that there is always a need for employee monitoring once in a while. You might want to get ahead of the traditional ways of handling business and learn about the technology as it is nowadays.
Everyone is getting their hands on the technology these days especially when it comes to the use of monitoring solutions for several purposes to make their lives smoother and easier. So, let's see what you can do to make your business experience better with the help of such apps and software.
With the use of Android spy app remote installation techniques, you can make a difference in the way you are running your business. Moreover, if you want to know, there are plenty of other areas where you can use such apps to make things easier. For instance, parents have been using such apps for the sake of their kids and to make sure their kids are safe all the time.
Since technology is everywhere, the old parenting ways have ceased to affect and now is the time to pursue smart parenting which includes using the technology. The same is the case with the business market. If you want to move forward, you must keep yourself acquainted with the new ways of dealing with things.
So, the use of an Android spy app is a must when it comes to handling your business, no matter how small or big. You ought to learn to deal with things in the smartest ways otherwise, there are plenty of people out there who are ready to take advantage of your weaknesses. And, in most cases, your employees become your weakness. So, never let that happen, and think of the techniques that you can use not to let that happen to your company.
Why is Monitoring Necessary for a Business?
You own a business, and you think you have got all the ends covered but somehow you are not heading forward as you should, what could be the reason? Moreover, you might have come up with new and creative ideas for your company but you see other companies using the same ideas the next day, how is that possible?
You were ready for the project to be in your hand, but suddenly you lost a file that had all the information, how did that happen? If things like this are happening in your surroundings, you must pay attention to it and do something about it. Monitoring and spying are the best solutions for such problems and here are the reasons:
Employee betrayal
No matter how satisfactory and great the environment is that you are providing to your employees, there are always loopholes that include greed and better offer from the surroundings. If you have a weak link under your roof, there are plenty of ways to use that and your competitors know it too well.
They look for such sort of employees to get their hands on and they offer them things that they can't refuse in return for the information about your business. If you are not aware of such things happening around you, you are at a big loss.
Hacking
Hacking is illegal but still, it has become a common act especially where there are people with negative intentions. It has become very common now that the competitors hire hackers to get into your system and to know what you have been doing with your latest projects. They get ahold of all the information that you have in your system, and in doing so, they snatch your clients away from you.
If you have spying and monitoring apps installed in your system, you will be able to identify that there is a problem with the system and you can do something right away before things go way bad.
Snatching Top Talent
Employee monitoring is also necessary when it comes to knowing who is contacting them and how are they being connected to your competitors. Most companies target the top talent of other companies to get them to join their company. They usually do this through social media, providing them with better opportunities and telling them that they have better offers for them.
In no time, you see your top talent walking away from your company for no apparent or logical reason. That is one of the biggest losses that you can suffer from if you are not taking care of the monitoring part.
Spying and monitoring apps are not made for hacking and other negative purposes, instead, they are developed for the right use such as the use in the business market. So, avail of these offers, use these apps for the right purpose, and make your business successful. Now is the time to step into the market with all the information about technology and stuff.
Use Android Spy App Remote Installation
Once you have decided that you will monitor your employees, it is time to choose the best app out there to for the monitoring purpose. You might search for the best free Android spy app download software, but you will end up with plenty of options that will get you nowhere. So, it is better to stick to the reviews and see which app is the best for the purpose that you will be using it.
Mobistealth has proven to be the most trustworthy app in this manner, which is also being used by plenty of trusted customers out there. Once you install the app, you will know why people prefer it. It is easy to use, very easy to comprehend, and there is no rocket science involved. So, get your hands on it right away.
---