Carry Out the Best iPhone Monitoring with the Help of Mobistealth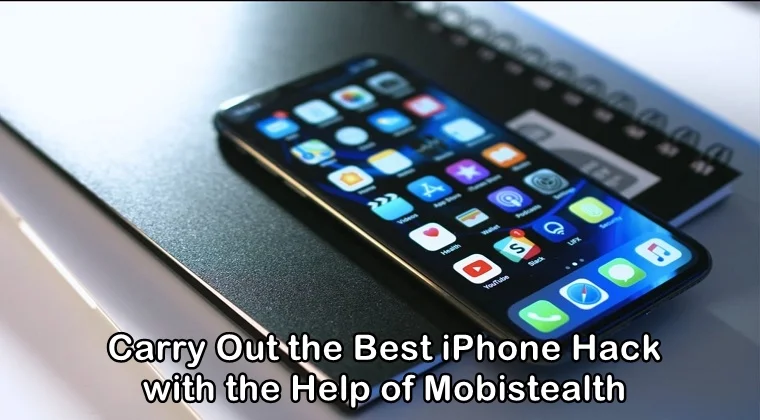 While it is considered impossible to breach iPhone's strict security system, some users have still managed to find ways to get it done. Most of them are using illegal ways to perform iPhone hack methods. Different sites and apps are being used to track someone's iPhone activity.
Now, the point to ponder is, whether or not these iPhone hack sites and apps are legal. And, if these platforms are any worth it. According to an article published on Techcrunch, a group of security researchers at Google reported having found a number of malicious sites which, upon visiting, could hack into someone's iPhone by exploiting a set of previously undisclosed software flaws.
Google's Project Zero also went on to declare that the websites had been hacking iPhone devices over a period of at least two years. Only visiting those sites enabled the exploit server to attack the victim's iPhone and it was successful, allowed them to install a monitoring plant. This was confirmed in a post published on the Wired.
Avoid Unreliable iPhone Monitoring Solutions
It may seem that some sites and apps developed for iPhone monitoring are totally genuine and reliable. You would want to try them out at your convenience to see if they let you sneak into someone's iPhone device.
Truth be told, you would be disappointed to learn that these iPhone hacking sites and apps are not only unreliable but ineffective as well. They may serve the purpose of hacking someone's iPhone but won't be able to provide you with the required results.
For instance, some iPhone hacking sites may ask you to fill out an online survey form before providing any results. They do this only to retrieve your personal information such as email address and banking details. By getting your email ID, they send spam emails and flood your inbox with unnecessary and irrelevant information.
On the other hand, some iPhone hack solutions may ask you to download third-party software/app before allowing you to sneak into someone's iPhone device. Now, you need to be extremely vigilant here because the third-party software/app may be contagious and install some malicious malware to yours or your target's device.
We have also come across iPhone hack solutions on the internet that do not work at all. You may download and install them on the victim's iPhone device but won't be able to track their device activity because the said iPhone hack app is ineffective.
Under such circumstances, the only way forward is to avoid using these unreliable and fake iPhone hack solutions and opt for the one that offers the best results to you and helps fulfill the purpose of iPhone monitoring.
Perform the Best iPhone Monitoring with Mobistealth
If, by now, you have been left disappointed reading about the fake and ineffective iPhone monitoring solutions, then do not worry because we have got you covered. We will be telling you about the best iPhone monitoring method that won't leave you dissatisfied.
Yes, we are talking about Mobistealth that comes off as one of the most advanced iPhone monitoring solutions. With Mobistealth at your disposal, you can easily monitor someone's iPhone activity without them knowing.
Let us understand how you can monitor someone's iPhone using Mobistealth: First of all, you need to register an account with Mobistealth and get your login credentials from them. Secondly, you need to access the target iPhone and that is only possible if you know their iTunes credentials.
Sadly, without iTunes credentials, you can't get access to the target iPhone and as a result, can't install the monitoring application on their device. Therefore, you need to be aware of the victim's iTunes credentials before you can plant the Mobistealth app on their device.
Suppose you have gotten access to the victim's iTunes credentials and have managed to install the Mobistealth app on their device, you will simply log into your online dashboard using your account details and then remotely view the victim's iPhone activity on the dashboard itself.
The best thing about using Mobistealth is that it stays undetected on the target iPhone and becomes invisible to them. The monitoring app secretly runs in the background of the target phone without them knowing and keeps recording all the activity taking place on the device. The recorded data is transported to the online dashboard from where you can remotely monitor the activity from anywhere and at any time.
Therefore, next time, if you're looking for a professional and reliable iPhone hack method, you know which iPhone monitoring app you need to choose. Mobistealth supports all the platforms including iOS and Android devices. This means you can also hack Android of someone without them knowing.
The app takes only a few minutes to get installed on the target's iPhone compared to the other iPhone hack methods that take ages to perform the required task, given if they work at all.
---