Monitor Your Kid's Phone with An Undetectable Spy App for Android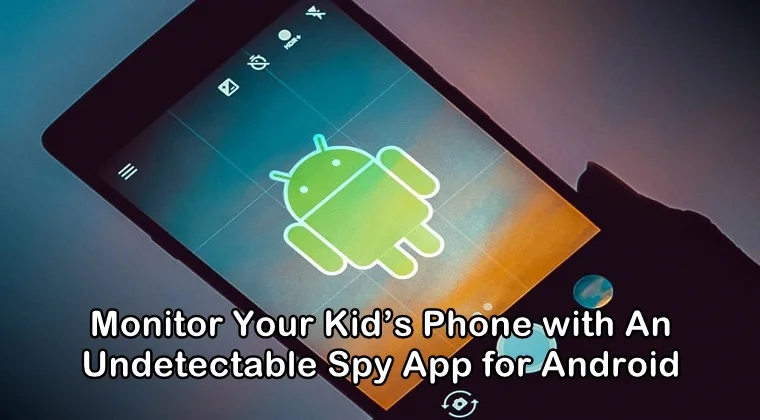 Are your kids spending more time on their smartphones than they should? Are they neglecting their studies and other physical activities just so they can play online games with their friends or stream movies on YouTube?
If you have noticed your kids remaining glued to the mobile screens and want to find out what is keeping them so much engrossed in their devices, you need to start monitoring their entire cell phone activity. Spy and monitoring apps are used for this purpose. If your kid is using an Android device, you should opt for the undetectable spy app for Android.
Now, the question is, why should one use an undetectable spy app for Android? What are the benefits of using it? How does the spy app remain hidden on the target phone? Let us answer all these questions in this post.
What's an Undetectable Spy App?
An undetectable spy app remains hidden on the target phone as soon as it is installed on it. The spy app remains completely invisible on the target device and runs in the background of the device without providing any evidence to the target person.
The target person won't be able to find out that a spy app has been installed on their device as it remains invisible, leaving behind no trace of its existence. Only the person already who is already aware of the spy app being installed on their device cannot be tricked about it. In all the other cases, nobody can catch the spy app being deployed on their devices unless they already know about it.
Undetectable spy apps are helpful for concerned parents who want to monitor their children's cell phone activity but at the same time, do not want them to know that their devices are being monitored. Parents choose to monitor kid's cell phone activity in stealth mode because they do not want their kids to feel offended or feel that their privacy is being invaded.
How Does Undetectable Spy App for Android Work?
Let us understand how an undetectable spy app for Android works. For your clarity and understanding, we will be choosing Mobistealth as our spy app for Android and see how it performs. As soon as you install the spy app on the target Android phone, you need to go to the Settings of the phone and hide the Mobistealth's app icon in the Applications list.
Hiding the app on the target device is an essential step because without doing this, the app won't remain hidden on the device and will be visible to the target person. The app carries out the monitoring process without affecting the performance of the target phone or draining its battery. The app becomes hidden from the launcher, home screen as well as from the task manager.
For example, if you are an employer and want to monitor your employee's company-owned Android device without their knowledge, then you need to hide the app's icon on their device.
The same goes for your kids' Android devices. instead of offending your children or letting them feel that you are being invasive by spying on their cell phone activity, you need to carry out the monitoring process in complete secrecy. For monitoring someone's Android device in stealth mode, it is necessary for you to hide the app's icon by tweaking the settings on the target device.
Mobistealth is the Best Spy App for Android
If you are worried about your kid spending too much time in front of his/her Android device, it's time for you to start keeping tabs on their cell phone activity and find out what's keeping his/her so much occupied on their device.
Monitoring the kid's cell phone activity is considered an integral part of the parenting process. Without monitoring, you won't be able to know what your child is doing on the internet and what sort of people they are interacting with.
The online world can be a dangerous place for your kids and teens and the only way to safeguard them from online dangers is to monitor their every move on the internet. You can track their incoming and outgoing phone calls, text messages, and emails.
You can also track their whereabouts and find out about all the places they have been visiting. You can also keep a track of their instant messenger conversations and know who they have been interacting with and what sort of conversations they are having with them.
Mobistealth was built as an advanced monitoring solution to help you monitor your loved one's online activity for their online safety. This app is not only used by the parents across the globe but is also being considered by many employers who want to track their employees' performance and activity during office hours.
Remember, do not opt for free spy apps for android without target phone because they are a complete waste of time and money. they may even lack important monitoring features and turn out to be ineffective.
Interestingly, the Mobistealth spy app is nothing like that. This app is also undetectable and stays hidden on the target device. The app has been designed with a user-friendly interface that makes monitoring easy and hassle-free for you.
---