Learning How to Hack Android Phone Remotely the Right Way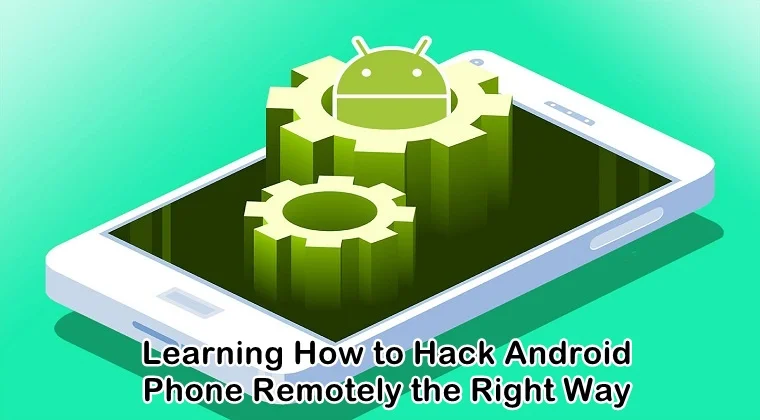 Hackers have always found Android operating systems to be attractive because they can steal valuable data from them. Not a long time ago, a group of researchers learned about a new type of attack—"Cloak and Dagger"—that was solely targeted at Android devices.
Just like Cloak and Dagger, several methods have been introduced to hack Android devices remotely that may or may not work. Users look for numerous ways on the internet only to learn how to hack Android phone remotely. In this post, we are going to teach you how to hack Android phone remotely the right way.
Before we do that, we will explain to you why using Cloak and Dagger and other hacking methods are not recommended to hack someone's Android phone.
What is Cloak and Dagger Attack?
Cloak and Dagger attack is all about hacking Android devices. Using this method, hackers can take full control of someone's Android device secretly without them knowing. The attack on the target Android device begins as soon as a new malicious app is installed on the Android phone, which then takes over full control over the device.
The Cloak and Dagger attack work effectively only if a couple of permissions have been granted at the time of installing the malicious app from the Google Play Store. The target person won't be able to notice any suspicious activity by the malicious app on their phone unless they are aware of it being installed.
Once the hacker has launched the Cloak and Dagger attack on the target phone, he can steal sensitive and confidential information such as phone contacts, PIN code of the Android device, all the passwords used online, chats, keystrokes, text messages, as well as OTP passcode.
No permission is needed from the target Android user for the Cloak and Dagger attack to take place on their device. This attack is practical and affects all new versions of Android devices. To learn more about the Cloak and Dagger attack that has been troubling Android for a long time now, read the article published at Wired here: https://www.wired.com/story/cloak-and-dagger-android-malware/
Why Cloak and Dagger Attack Is Not Recommended?
Sometimes, hacking an Android device becomes inevitable. Especially, when concerned parents want to find out what their child has been doing on their smartphone all day long. On the other hand, monitoring Android devices of employees becomes necessary when employers want to know if the employees are paying full concentration to their work.
Hacking an Android device of someone may also become compulsory when a person becomes suspicious of their partner's cell phone activity and want to learn who they interact with behind their back. Under such circumstances, it becomes necessary to hack an Android phone.
As much as hacking an Android phone is inevitable, we will still not recommend using the Cloak and Dagger attack or any other unreliable Android hack method to sneak into someone's Android device. First and foremost, these methods risk the vulnerability of the Android operating system.
By using such methods, you may inject a malicious virus into the target Android device while installing the app on it, putting a huge risk to the personal and sensitive data stored in it. To avoid putting the target Android phone at a huge risk, we would advise you not to use any such illegal and unreliable Android hack methods.
How to Hack Android Phone Remotely the Right Way
The methods used for hacking Android phones including the Cloak and Dagger attack are illegal and should be avoided. If you are really keen on learning how to hack Android phone remotely the right way, your best bet is to make use of an advanced cell phone monitoring app.
We are talking about Mobistealth which is considered as the best spy app for Android in the business. In fact, this Android spy app can be used for parental control and employee monitoring purposes. Using the same spy app, you can also sneak into your partner's Android phone and confirm or deny your suspicion.
This Android spy software is extremely easy to use and set up. What's more, you can install the app within a few minutes and start monitoring the target Android device. All you need to do is grab the target Android phone for a few minutes, download and install the Mobistealth Android spy app on it and then monitor the phone activity via your online user account.
Your online user account gives you access to the online dashboard from where you can remotely monitor the target Android phone from anywhere and at any time. With Mobistealth, you can record, monitor, and keep track of everything that is happening on the target phone.
From monitoring phone calls, text messages, and emails to location tracking, to keeping tabs on online browsing, social media accounts, instant messaging apps, photos, and videos stored on the target Android device, Mobistealth lets you view and monitor everything. You can also know the whereabouts of the target person if you install the Mobistealth monitoring app on their device.
With Mobistealth by your side, there is no need to invest your time and money on any other Android tracking app. You should only invest in Android spy software that lets you remotely hack someone's Android phone without creating any problem or giving a hint to the target person.
So, next time, you do not need to try any fake or unreliable methods to learn how to hack Android phone remotely. If you want to learn how to hack Android phone remotely and want to perform the hack effectively, you must get your hands on the Mobistealth monitoring app. We strongly advice you not to waste your time on any unreliable Android hack app that you come across on the internet.
---