How to Spy on Cell Phone Without Installing Software on Target Phone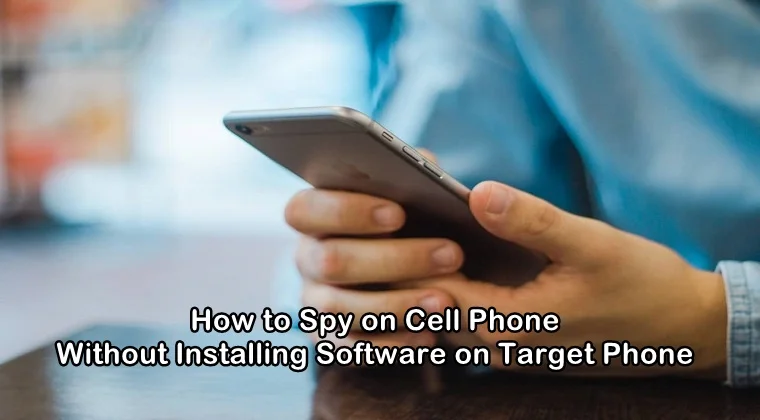 Have you ever wanted to spy on someone's cell phone without having to install any spy software on it? Not many people are fond of using spy applications because either they are not tech-savvy or they may not consider it convenient to simply grab a phone and install the spy app on it.
If you have come here to find out a way to spy on a cell phone without installing software on the target phone, then you have come to the right place. We will try our best to answer your question in detail.
Cell phones have become an inseparable and integral part of our lives. It is difficult to even imagine our day without a cell phone because we rely on them for so many things. Whether it is about texting someone, looking up for something on Google, capturing a picture, or simply watching a video, a cell phone helps us in so many ways.
Cell phones and technology has definitely made our lives easier but it has also brought several threats for us, especially our children. Since kids spend a huge chunk of their time in front of their cell phone screens, they are exposed to several online threats on the internet. To keep them safe, parents need to monitor their online activity with the help of spy apps.
With tweens and teens, everything becomes difficult sometimes. They don't want to be corrected, they don't want to be guided and they want their full independence uninterrupted. But, what can parents do when they know that there are many dangers on the internet that are targeting the kids only. They are focusing on the younger kids. For this purpose, using the phone spy app becomes very important and necessary.
However, monitoring someone's cell phones must be done secretly because you wouldn't want to offend the target person. Often children become offensive and get upset when they learn their parents are spying on their cell phone activity. Therefore, parents need to adopt a method that allows them to spy on their children's cell phone without them knowing.
Spy on Cell Phone Without Installing Software on Target Phone
Is it possible to spy on someone's cell phone without installing software on it? Well, it depends. If your target person is using an iPhone, then you have the chance of spying on their cell phone without installing software on it. However, Android phones work differently.
Let us understand how you can spy on someone's iPhone without installing software on it. First of all, you need to get your hands on an effective cell phone spy app. In our opinion, you should give it a try to Mobistealth because it is not only genuine but provides with effective results.
In order to spy on someone's iPhone, you do not require any physical access to it. There is no need to grab someone's iPhone to install a spy app on it. All you need is its iTunes credentials – both ID and password – and you're good to go.
Once you have obtained the credentials, visit Mobistealth's site, register an account with them and download the app. Once it is done, your account will be activated and you can begin spying on the iPhone you wish to monitor.
Monitoring someone's Android phone without installing spy software on it can be tricky because you will need physical access to their phone. Without physical access to the phone, you won't be able to spy on their activity. Physical access to the phone is required especially when the target person is using an Android device.
Remote installation of the spy app becomes much more complicated with an Android operating system. The only possible way to install a spy app on someone's Android phone is to get hold of their phone in their absence. If someone's not around and you already know the pin code to their cell phone, you can grab their phone and install the spy app on it.
The need to use spy phone app without actually telling the other person has become necessary in several cases. Such as in the case of kids, parents have the complete right to do anything they can in order to protect their kids. When they talk about monitoring them, the kids often become offensive and they don't really follow the reason. So, it is best to keep an eye on them from the space and make sure that they are safe.
How to Monitor a Cell Phone with a Spy App
As soon as you get physical access to someone's phone, you can download and install the cell phone spy app on it. After the spy app has been installed successfully on their Android phone, you need to head to the Settings of their device and hide the spy app's icon from the Application list.
This ensures the target person won't be able to find out about the spy app being installed on their device. The spy app like Mobistealth works secretly in the background of their device and monitors each cell phone activity without them knowing. Using a spy app is also a good idea because it teaches you how to spy on someone's phone without them knowing for free.
Some cell phone spy apps like Mobistealth offer a trial period of fifteen days to its users. In case a user is not happy with their services, he/she can demand a refund. However, if they are fully satisfied, they can go on to buy its premium version and benefit from its advanced surveillance features.
Mobistealth begins to monitor each cell phone activity taking place on the target phone from monitoring phone calls, text messages, GPS location, web browsing history, surround recordings, etc. You can also spy on someone's social media accounts, including their chats exchanged on popular instant messaging apps such as Facebook Messenger, WhatsApp, Snapchat, etc.
Now that you have understood whether or not it is possible to spy on a cell phone without installing software on the target phone, you must also know about the spy app if you have to spy on someone's Android phone.
Choosing a spy app can be a major problem when you have no idea what to look out for when you're buying one. The market is laden with cell phone spy apps. However, the problem is that most of them turn out to be fake or demand too much money from their customers.
We would recommend using Mobistealth because it offers an extensive list of monitoring features to its users at a reasonable price. Given its reputation in the market, we can say that it's a safe bet among the rest.
The internet is full of cybercrime incidents and surrounded by numerous online dangers. The only way to ensure your loved ones remain intact and safe is to monitor their online activity. This is only possible with the help of a reliable cell phone spy app such as Mobistealth.
Mobistealth is among the best phone spy apps that can help you with taking care of your loved ones, and making sure that your employees are doing right by your side. If you are not aware of these things, you can suffer a great loss at your company that can hurt your business really badly. So, use these spy phone software today and experience the change.
---