How to Protect Kids from Pedophiles on Facebook?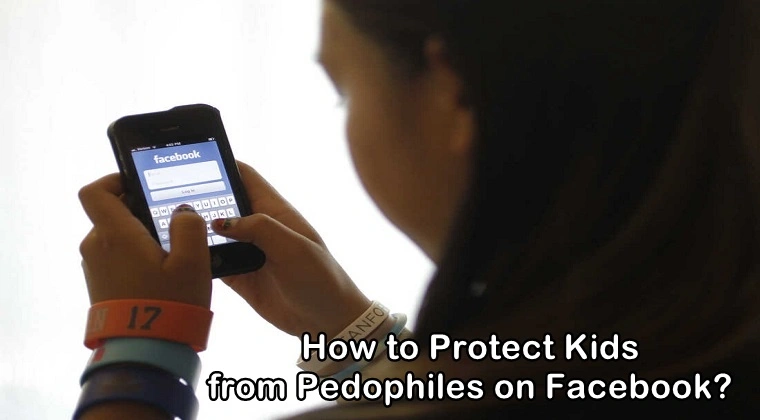 Kids these days spend a large chunk of their time on Facebook talking to people, posting about their likes/dislikes, sharing photos, etc. Seeing how popular this platform has become, pedophiles have also increased and are utilizing it hunt for vulnerable young victims.
As soon as they come across someone that they think would be an easy target, they move in by starting a conversation with them. Unaware of the threat, kids neither block them, nor say anything that could hurt them. They just go with the flow without realizing what they are getting themselves into.
Pedophiles, on the other hand, try their very best to get children to trust them and make them agree to meeting them in person. You as a parent certainly don't want that, but what can you really do if you don't even know what your youngsters are doing on Facebook, who they are talking to, who they are adding, what conversations they are having, and what kind of language they are using?
All of these are important questions, and you must know the answer to them if you want to protect your kids from online predators. You can do that if you learn how to spy Facebook messenger and other instant messaging apps. Previously, there was very little you could do in these circumstances, but now there are quite a few ways to handle this problem. We have outlined them below.
Catch Them in the Act Through Monitoring Solutions
Through monitoring apps, you can see whatever's happening on your child's smartphones, including their Facebook chats. If you see that they are regularly talking to someone whom you have never seen before or even heard of, then you should check them out and read what kind of messages they have sent to your child.
If it contains anything that indicates that they are coming on to your child, then report them to higher authorities and present the conversation thread as proof. If you have caught them in the act, then there's very little they can do to get away and are more than likely to end up in jail.
The best way to spy on your kid's Facebook chats is to install a robust monitoring app such as Mobistealth on their phone. This monitoring app remains hidden on your kid's phone and continues working in the background of their device, making monitoring easier for you.
Warn Your Kids About Social Media Threats
Catching a predator through monitoring app is a good move, but it would be even better if your children didn't fall for pedophile's tricks at all. You have to explain to your kids the dangers that lurk on social networking platforms so that they are wary of such individuals.
These types of people have golden tongues, which make them irresistible to children, but if you have cautioned the latter about such individuals, then they will certainly tell them off right away.
Know Who Your Kids Hang Around With
If you want your kids to stay safe from Facebook pedophiles, then you will need to know the people your kids hang around with. If they have a best friend, then inquire about their family and how they treat your child. If nothing stands out, then that's normal.
However, if there is certain someone that is trying pretty hard to befriend your kid in real life and on Facebook, then consider that a red flag. You will need to confront that particular individual as soon as you possibly can before they get what they're after.
Also, you should use the best parental control software to keep an eye on them so that you know what they are doing and where are they talking to wrong sort of people.
---