Why Should Parents Pursue Kids Monitoring?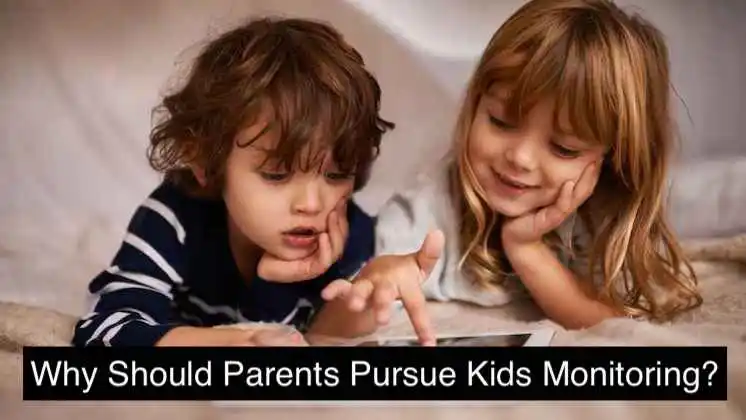 Kids of this era don't listen to anyone when it is about using the internet and social media. They want to download the apps that they like and they don't want to be restricted about that. Especially when it is about being entertained by the use of social media they think that they deserve the pleasure and adventures. Parents cannot limit the use of the internet for the kids but they can do monitoring to make sure they are not in any sort of danger.
Kids monitoring is all about knowing what your kids are doing and how are they using the internet. For some parents, it is not a point of concern because they think everything available on the internet is secure and safe.
In reality, these are the parents who have not gotten into the world of the internet. But for tech-savvy parents, have pretty much a good ide.a about what is there on the internet and how it can harm their kids. Especially certain apps are not good for the kids. Parents need to know about kids smartphone usage.
For instance, let's take a look at Facebook. It is for kids under 13 but you will see several accounts that are not eligible. Parents don't have the slightest idea about what their younger kids are doing on the computer when they are supposed to be working on their school work only.
Several other apps are being used by the kids and are not safe for them at all. Parents need to consider using kids monitoring tools to protect their kids.
Reasons for Kids' Monitoring
For parents who are still in the doubt about using kids monitoring tools, there are some of the reasons that will lead you to monitor the kids. However, not everything can happen to every kid, but if you look into the news you will see several places where kids are ruined because of what happened to them on the internet. Let's get to the point where it becomes clear why do you need a kids monitoring tool.
Pornography
Gone are the times when you had to cross the limits to get access to porn. Now whatever you are scrolling through, whatever you are searching for, you will always find an ad that will get you to this filthy world. Kids are usually excited to go to different places so they quickly click on these ads.
Once they are in this world, they get the pleasure and realize how amazing it is and soon they get addicted to it. You cannot stop your kids unless you know that they are watching it. Kids monitoring rules are there to let you know when they enter this world. Also, you can put website controls on their smartphones and gadgets so that they cannot get access to these places.
Cyberbullying
One of the worst effects of using the internet too much is cyberbullying. Kids are using social media to humiliate each other. Cyberbullying may start at school, but when they get access to the internet and social media, they do whatever they can to take it to another level.
Sometimes cyberbullying can cause serious mental health issues in kids who are sensitive and who think that social media is their new life. Cyberbullying might start low but as soon as it picks up the intensity, it can ruin your kid. You need to be sure that your kid is not being involved in any of such activities. A computer monitoring solution can let you know when your kid is being involved in these things.
Sexting
Sexting is pretty much common in adults but it has become more common in kids now. They have found pleasure in it and it is ruining them. They have made these fake relationships on social media where they make horrible decisions to maintain them.
Sexting is one of those decisions that make them share inappropriate and personal content to take the relationship to another level. It can turn into the source of blackmailing and revenge when those relationships are over.
Using the Best Kids Monitoring Tools
If you are a worried parent, you need to be sure that your kids are safe. Now, there are more threats in the digital world than in the real world. You need the best kids monitoring tools by your side to make sure that you know what your kids are up to.
Mobistealth is the best monitoring tool that can be used for kids' monitoring and can be proven very beneficial in smart parenting.
You can go through your kids' social media and see what they have been sharing and showing there. You can figure out their current mental state with the help of the online stuff they share. You can then talk to them accordingly, guide them, and keep an eye on them.
---